Moissanite Vs Cubic Zirconia: Which One Should You Choose?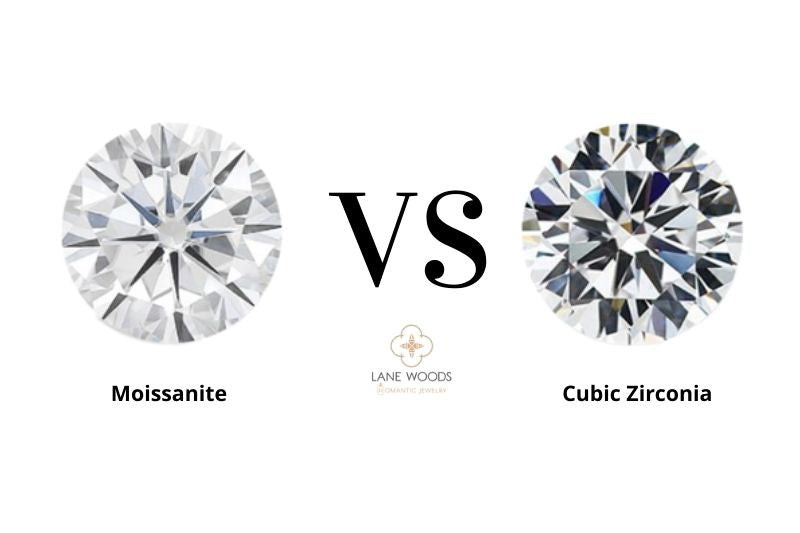 More pairs opt for gemstones like moissanite and cubic zirconia for engagement and wedding event rings. While they might look alike in the beginning look, there's a whole lot that sets apart both.
Which is a much better diamond substitute, Moissanite vs Cubic Zirconia? We will contrast the two most prominent diamond choices to help you make the best decision.
Table of contents

Moissanite vs Cubic Zirconia -- History and Chemical Composition

Moissanite vs Cubic Zirconia-- Brilliance

Moissanite vs Cubic Zirconia – Color and Clarity

Moissanite vs Cubic Zirconia-- Durability

Moissanite vs Cubic Zirconia-- Maintenance

Moissanite vs Cubic Zirconia-- Value
Moissanite vs Cubic Zirconia -- History and Chemical Composition
Henri Moissan first discovered moissanite in a meteor crater in the 1890s. It is believed that the crystals at the site were brought here by a meteor that crashed into the earth a few thousand years ago. So some people call it a space diamond or stardust diamond.
The cubic zirconia was found as a very rare natural gemstone in the 1930s.
Both cubic zirconia and moissanite are natural gems that are so uncommon in nature. As a result, all moissanite and also CZ on the market today are lab-created.
In terms of chemical composition, cubic zirconia is a substance of zirconium as well as oxygen (ZrO2). While moissanite is made from silicon carbide (SiC), a mix of silicon and also carbon. Since diamonds are carbon-based minerals. Moissanite is closer to the diamond in terms of its chemical makeup contrasted to cubic zirconia.
Moissanite vs Cubic Zirconia-- Brilliance
The RI of gems determines the amount of light that is curved as it experiences the gems. It is an indicator of the gemstone's sparkle. The higher the refractive index, the even more radiance a treasure has.
Diamonds have a refractive index of 2.42, moissanite has a refractive index of 2.65. Cubic zirconia has an RI of 2.15-- 2.18, which is a lot lower than moissanite. Unfortunately, the smallest shimmer makes CZs look glazed. It's particularly obvious if they're sitting beside stunning diamonds and also moissanite.
And also moissanite has an extremely high level of fire (a.k.a. dispersion of light) known as the 'rainbow effect'. Which is obvious, especially under sunlight. CZ likewise has fire (dispel) yet is lower than moissanite.
Consumers are often split on just how they feel concerning the rainbow effect. Some finding it gaudy and also others enjoying the vivid shimmer.
If you want to fire, moissanite is your best option.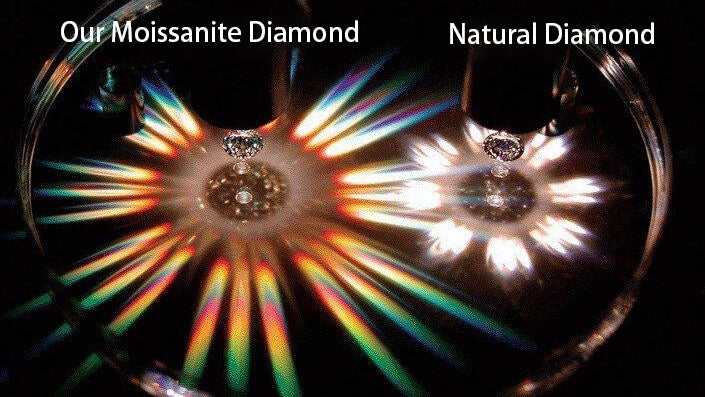 Moissanite vs Cubic Zirconia – Color and Clarity
Gemologists use a color ranking system for white stones, with D being the highest-ranking (colorless) and Z being the lowest. CZ is usually developed to be flawless, with excellent clarity and no color. In fact, all cubic zirconia stones have a color quality of D. D-score diamonds are very rare and very expensive.
Moissanite, on the other hand, is rarely completely white or completely transparent. It's not uncommon for Moissanite to have yellow, green, and even grey colors, as part of their structural flaw. Yet with enhancements in innovation, the quality of moissanite color has enhanced.
All the same, if you are searching for a pure color stone, you ought to choose CZ.
Moissanite vs Cubic Zirconia-- Durability
For engagement rings or jewelry meant to be worn often, durability is an essential concern. One point to look at when thinking of sturdiness is hardness, which is determined by the Mohs scale.
Diamonds are the hardest gemstone with a perfect ranking of 10 on the Mohs scale. Moissanite has a Mohs ranking of 9.25, which is greater than all gemstones other than diamond.
While Cubic zirconia ranks at 8 to 8.5 on the Mohs scale. This indicates that Moissanite is harder to a clear degree. As both are harder stones, they are unlikely to chip.
Nonetheless, in regards to toughness, which refers to the gems' resistance to damage, moissanite is a lot harder than CZ. Moissanites have a PSI score of 7.6, showing they are durable under extreme pressure. On the other hand, CZs have a PSI ranking of 2.4. This implies that moissanite is over 3 times much more resistant to breaking or chipping than CZ.
Ellora Eternity Moissanite Ring
Moissanite vs Cubic Zirconia-- Maintenance
Both moissanite and also cubic zirconia require regular cleansings since they can become overcast and hazy. This can originate from household detergents, cosmetics, body oils, dirt, and so on. Them triggering the stones to lose their sparkle and also show up plain.
Moissanite is better able to resist dirt rather than CZ. CZ clouds over quickly as well as loses its shimmer at a much faster rate. However, moissanite can acquire what's referred to as the moissanite oil slick, a colorful oily-looking tarnish on the stone. This can be cleaned off.
Learn more tips on how to clean moissanite ring.
Moissanite vs Cubic Zirconia-- Value
Moissanite and cubic zirconia are inexpensive options for individuals who do not wish to spend thousands on natural diamonds. Nonetheless, moissanite is much more pricey.
Moissanite's cost per carat weight varies, while the average rate per carat weight of a CZ is about $20. The price of the Moissanite while lower than that of a diamond is a lot greater than that of CZ.
Moissanite is a lot tougher to create. It takes up time and resources and needs state-of-the-art technology, proficiency, and a high price to manufacture. Overall, moissanite has to do with 90% cheaper than the normal diamond.
And Moissanite has some resale value, meaning it can function as a financial investment. Cubic Zirconia is that there's basically no resale value at all.
If your choice is guided by a budget plan, then CZ is the best alternative for you. However, if you want a stone with even more worth, moissanite is the means to go.
Check the affordable moissanite rings at Lane Woods.
Summing it Up
In general, diamonds are still one of the most popular selections for engagement and wedding event rings. Some really feel that diamonds are symbolic and alternatives simply do not use the exact same vision. Both moissanite and also CZ are diamond simulants. So if you're highly traditional and you care what individuals think, opting for a diamond may be your finest option.
Nevertheless, Diamond alternative engagement rings are being increased in popularity. Because them in terms of an extra distinct means to reveal style, but even more so, save money.
Moissanite and also cubic zirconia both have gorgeous radiance and extraordinary value. They are terrific options for individuals who want clear gems but don't intend to pay thousands of dollars for them.
When deciding between both, set your budget and your priorities.
If a budget plan is the most essential to you, select cubic zirconia. It looks so much like an actual diamond. Only a jeweler with unique tools would have the ability to look and tell you it's unreal.
If quality is more vital to you, think about moissanite. While both Moissanite and also CZ are superior gemstones, Moissanite has a small edge in practically every category we stated above. Naturally, the premise of selecting moissanite is that you like its distinct 'rainbow effect'.
Related Reading